Quick and easy to install!
Preparation with the CaP System
Prepare your cable with the innovative Pressure-on Connector (CaP): it's so easy and you can use any type of coaxial cable!
Complete the connection!
All you have to do is apply light pressure to complete the connection. Thanks to the CaP System the transmission quality will be optimal
Choose keystone faceplate
Once you have chosen the keystone faceplate, simply insert the completed socket into the faceplate and install it in the frame
Why choose T&S Keystone Sockets?
In the video you will see an example of making a TV socket with one of our T&S Keystone Modules, you will discover with your own eyes how simple it is to make!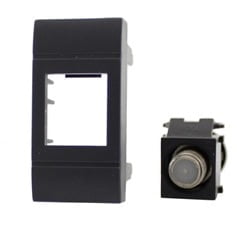 Choose your keystone faceplate
Together with T&S keystone sockets, you can choose from a wide range of keystone front panels from the most important civil series (ABB, AVE, BTicino, Gewiss, Legrand, Urmet, Vimar)
Why should you rely on Telecom & Security?