Easy Fiber
The revolutionary patch cord with an innovative patented system that allows to create

top quality fiber optic connections in a simple and fast way.
Easy for every installer
Thanks to Easy Fiber¹, the world of fiber optics opens its doors to every installer, even those not specialised in this field: thanks to its simplicity, it will only take a few minutes to pull the Easy Fiber cable and a few seconds to complete the connector.
Highest quality
Being pre-connectorized in factory, the Easy Fiber patch cord offers the best quality in optical signal transmission, as opposed to patch cords connected by soldering, which suffer from a decrease in quality.
Goodbye to splicers!
With its innovative and patented Easy Fiber Kit, completing the connector once in the field will be as simple as assembling a Lego and no specialised tools such as complicated and expensive splicers will be needed.
Discover the unique features of Easy Fiber
Three Configurations
Available in 1-, 4- or 8-fibers configurations, Easy Fiber patch cords are ideal for cabling projects of complex housing solutions and the installation of multi-service systems
Easy Fiber Kit, the core of the patent
This practical kit allows to complete the SC/APC connector in 30 seconds!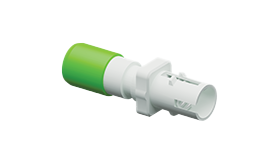 Inner body (booth+body+spring)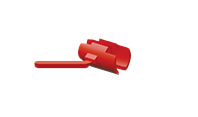 Flange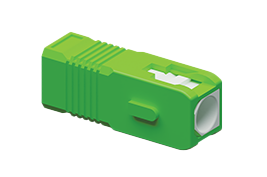 External body (inner body+extractor body)

Dust cap
Single mode fiber patchcord
CPR Class: Eca, Cca-s1b, d1, a1
Core diameter: 9 μm
Cladding diameter: 125 μm
Primary coating diameter: 600/900 μm anche Pico Breakout (kevlar)
External diameter: A seconda del numero di fibre
Towing system diameter: < 3 mm
Protection filler: filati aramidici (kevlar)
External sheath material: LS0H
Fiber type: G.657 A2
Standard connectors: SC/APC
Guaranteed optical performances
Insertion Loss: Grade C
Return Loss: Grade 1
Mechanical and enviromental characs
Usage: inside/outside
Dynamic bend radius: 20x cable diameter
Static bend radius: 10x cable diameter
Maximum cable pull: 50 N
Operating temperature: from -10°C to +50°C
¹Easy Fiber is a Telecom & Security international patent
Why should you rely on Easy Fiber?