Easy Fiber is a patch cord with an innovative system that allows to create top quality fiber optic connections in a simple and fast way.
The idea behind Easy Fiber system is to connect the patchcord NOT with the entire SC/APC connector but ONLY with its main component, the zirconia ferrule: in the factory the optical fiber is resineted to the ferrule and then lapped at 8°angle. In this way the optical patchcord, thus connectorized, maintains the same dimensions and the same threading capacity of the non-connectorized cable.
The reinforcing filler of the optical patchcord (kevlar) is used as a towing system, thus avoiding any possibility of collapse of the same in the vicinity of tight curves and preserving the integrity of the fiber: the rubber tail embedded on the ferrule holder and the cable sheath partially superimposed on the rubber tail protect the fiber in all points of discontinuity; there is also a PVC sheath for protecting the ferrule during the installation of both the patchcord and the remaining parts of the connector.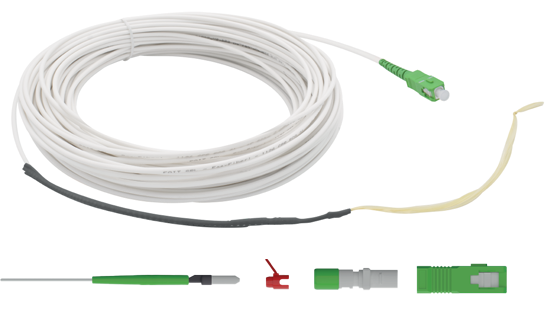 The patch cord is pre-engraved on two opposite sides to allow all installers to unsheathe the cable simply by pulling the two edges of the sheath itself for the necessary length; in this way any excess of cable can be stripped off to reduce its footprint (for example, with a 2.5 mm diameter cable and 900 μm fiber, the overall size is considerably reduced when the sheath of the cable is stripped away).
The patch cord is provided with the Easy Fiber Kit containing the remaining mechanical parts of the connector to be mounted in the field after the threading phase.
The Easy Fiber patchcord, not being made of conductive material, can be easily installed in small conduits, even in the presence of other cables (signal and energy).
Easy Fiber Kit
It consists of four elements:
an inner body composed by a booth, a body and a spring
an external body composed by an inner body and an extractor body

Inner body (booth+body+spring)
External body (inner body+extractor body)
Finalization of the connector in less than 30 seconds
Protection coating and towing system removal
SC/APC connector finalization
Single mode fiber patchcord
CPR Class: Eca, Cca-s1b, d1, a1
Core diameter: 9 μm
Cladding diameter: 125 μm
Primary coating diameter: 600/900 μm anche Pico Breakout (kevlar)
External diameter: A seconda del numero di fibre
Towing system diameter: < 3 mm
Protection filler: filati aramidici (kevlar)
External sheath material: LS0H
Fiber type: G.657 A2
Standard connectors: SC/APC
Guaranteed optical performances
Insertion Loss: Grade C
Return Loss: Grade 1
Mechanical and enviromental characs
Usage: inside/outside
Dynamic bend radius: 20x cable diameter
Static bend radius: 10x cable diameter
Maximum cable pull: 50 N
Operating temperature: from -10°C to +50°C